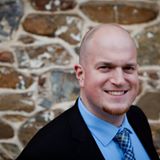 Greg Simmons, Mortgage Loan Officer with First Savings Mortgage
What a great time it was listening and learning from Greg Simmons, Loan Officer with First Savings Mortgage. It was eye opening to learn what a mortgage loan officer really does and how important a role they plan in getting us the mortgage that gets us into the home of our dreams.
When I asked Greg to describe his business and what he does, he answered simply and without hesitation...
"I help people buy houses and I help people save money by refinancing their current mortgages."
Mortgage Experience
With over 15 years of experience in the mortgage industry, Greg has worked in various aspects of the mortgage process so he is both a wealth of knowledge, experience, and resources to make your mortgage loan and refinance process the very best it can be.
It was obvious in listening to Greg that he is both passionate about his work and he's committed to making the mortgage process a personal experience as unique as each customer he encounters.
Greg has taken loan applications at restaurants, over the phone, or in person in his office.
"I try to give a personal touch to what can easily be an impersonal process. Over the years I've leanred that this gives people a better experience and because of it, I see a lot of repeat and referral customers. It works."
And customer after customer attests to Greg's personal touch...
"I honestly can't say enough great things about Greg and his team at First Savings. Greg and his team always had open lines of communication and made my first time buying experience simple and I'll never forget all the help and support they provided to me." -Tanious H.
"From the beginning to end, Greg demonstrated excellent knowledge and customer service to assist us in securing a mortgage that met our requirements. Everything was completed on time as promised, and we appreciated his responsiveness and professionalism. Although we were considering other lenders, Greg was the clear choice - he made himself available to us every hour of the day, and he very promptly and effectively resolved every inquiry without delay. Greg exceeded our expectations in every way, and we would gladly recommend him!"
-Thao T.
Personal Approach
And for those looking for a personal experience rather than a typical sales experience, Greg is the choice for you. Greg has a logistical background, not a sales background. And it shows!
"I enjoy making sure everything is accurate and detailed. I most enjoy helping people buy their first home and making sure they understand the process along the way."
When asked what has most surprised Greg about his mortgage business, he said that not much surprises him anymore. Over the years he's learned that no two scenarios is the same.
The best advice Greg has for home buyers is that "It's never to early to get pre-approved for a mortgage loan and there are no dumb questions, so ask!"
"People may only buy 1 or 2 homes in their life-time and if I can't help you now, I'll give you honest advice that will help you be ready to make a purchase in the future."
"I advise people based on what's best for them. I give people honest advice that helps them most."
Helping People
Listening to Greg it became apparent that Greg is about helping people and at the end of the day, he wants to look back on his day feeling good in knowing that he has truly helped people by doing what's best for them. Greg is all about his clients and that's what we want in our mortgage company.
When you begin the process of thinking of buying your next home, consider having a conversation with Greg as early in the process as possible. You'd be well advised to contact Greg to work through the mortgage pre-approval process before you contact a realtor.
Greg is licensed to complete mortgages in Virginia, DC, Maryland, and North Carolina.
With your mortgage pre-approval in hand, you're prepared to find the home that's best for you. And you're prepared to win the deal if you get in a situation where there are multiple offers on the property you want.
And if you're considering a mortgage refinance, Greg is a great option for you.
Mortgage Contact
Call or text Greg with any questions you have about the mortgage or refinance process: 703.727.2801
Greg is accessible. Greg is personable. Greg is willing to make himself available to you.
Connect with Greg on Facebook by Clicking Here.
Or visit his Website, www.GregLends.com
We wish you all the best in your mortgage, refinance, and home buying process. We hope we're a helpful resource to you!